Water Feature Care & Advice
To make it as straightforward as possible to set up and maintain your water feature, we've put together a series of helpful tips and advice to ensure safe, trouble-free assembly and after care.
Once you are up and running, it's still important that you carry out some simple routine checks, as this will support long lasting performance and help to keep your water feature looking great for years to come. 
When you purchase a Water Feature, you'll be supplied with a comprehensive guide containing all of the information below. Still have questions? Don't hesitate to call our friendly, experienced Customer Service team on: 0151 336 3616.
Before Assembly:
Carefully unpack your Water Feature on to a smooth, flat surface to avoid damage 
Be sure to check for all listed parts as some may be hidden within the inner packaging 
Please read all instructions and pump operating guidance carefully 
Follow the safety advice provided before attempting to assemble your Water Feature 
Please retrain all documentation and your proof of purchase for future reference 
Product Assembly
When unboxing your Water Feature, you should find an information booklet containing safety information, instructions for assembly and after care. It's important you keep these documents for future reference, however should you misplace them/find they are missing, please contact please contact the Altico Customer Service team for a pdf copy.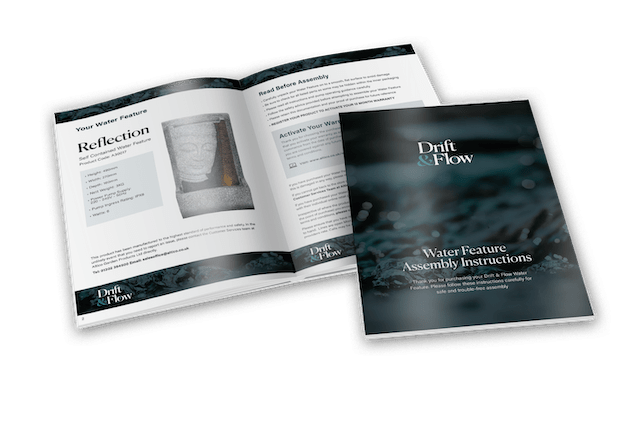 In the case of damaged goods:
If you have purchased your Water Feature in a retail store, and find upon opening your product that this is damaged in any way, please revisit the store or contact the retailer in the first instance. 
If you cannot get back to the store or have problems contacting the retailer, please contact the Altico Customer Service team.
If you have purchased your Water Feature online, the same applies. Returns should be made in line with their individual online retail policy. 
When there's a fault:
Irrespective of where the product was purchased from, if over the period of warranty (12 months from the point of purchase) you encounter problems and believe these are covered within the warranty terms and conditions, please contact Altico Garden Products Ltd. 
Please ensure that you have registered your product as advised and have proof of purchase details to hand. 
Trouble Shooting:
If you find your Water Feature isn't running or operating in the way you would expect, please read our Trouble Shooting guide below first and check against the common factors listed before contacting our the Altico Customer Services team:
Lights & Transformers
If the lights and pump are not working, it is likely the transformer has failed. If the product has been registered, is within the warranty period and has been used in the correct manner (as advised within this instruction guide), a replacement part can be issued upon proof of purchase 
Algae and limescale build-up can cause lights to flicker, usually affecting the connectors between the transformer and the lights. Please keep your Water Feature clean as per the care guidance offered to avoid this. Flickering lights are not covered by the warranty unless deemed to be a genuine fault. Lights can be purchased from our Customer Services department
Pumps
Check the pump is fully submerged 
Check the flow dial on the pump to ensure the correct flow rate is set. This can be turned up or down to suit requirements 
Check for dirt/debris on the intake screen. This will greatly reduce performance 
Always keep the pipe and impeller (rotating part of the pump) clear 
It is common for air to be in the tube when first plugged in. This can be resolved by unplugging the water Feature, then plugging back in again 
Check the fuse and replace if necessary
Loss of water
The Water Feature must be completely level when set up 
Check the reservoir is not over filled (water should not spill out) 
Check the pump flow rate is not running too fast, if so turn down 
Natural evaporation and weather elements will affect the water levels 
Make sure the Water Feature is topped up with water regularly
Main Body
Limescale residue will appear on the main body of the Water Feature. This should be cleaned regularly to avoid paint damage. See Care Guidance for details 
Paint will peel if the Water Feature is left unprotected during frost/winter periods this is not covered by the warranty. See Care Guidance for details 
Parts that break off the main body during use are caused by knocks/bad weather conditions and cannot be replaced. This is not covered by the warranty
Care Guidance:
Operate in fresh (tap) water only and check routinely to see if this needs topping up 
Periodically change the water to keep the flow, the water feature itself and pump clean 
Remove scale and build-up regularly. We recommend purchasing Drift & Flow Algae Stop as a preventative treatment, which can be obtained through all good Garden Centre Retailers. Drift & Flow One Shot Algae Remover can also be used as a one-time treatment for the removal of Algae, sludge and other build-ups. Directions for each treatment use are as instructed on the packaging 
DO NOT use any harmful additives such as bleach or chlorine. Only use a specific Water Feature treatment as indicated above. Other brands are available 
DO NOT use anything abrasive to scrub the Water Feature 
DO NOT use a pressure washer 
Always shut off the power supply before cleaning and maintaining your Water Feature 
Always switch off your Water Feature before leaving home for sustained periods of time
Winter Care:
During colder months and in particular freezing conditions, we recommend draining the Water Feature, disconnecting the pump and storing this indoors if possible. Allowing ice to build up in your Water Feature, or subjecting it to changing temperatures can cause a number of issues, such as cracking, paint finish damage, pump and light failure, etc 
Before storing your Water Feature, remove the pump and transformer then clean any lime or debris. Dry the surface gently with a clean cloth and ensure this is packed away safety, away from anything that could cause damage 
Protective Water Feature Covers are available in the Drift & Flow range. As a precautionary measure in colder/wetter periods or when not in use, covering the product is recommended. Please note: Using a cover does not guarantee complete Winter protection